4 weeks full time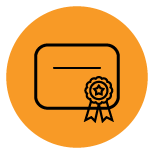 Level 5 Qualification

C1 min Level
Every month we train people of all ages, nationalities, academic and professional backgrounds to follow their dreams and become confident, creative and qualified EFL teachers worldwide. Oxford International is accredited by Trinity College London to run the Certificate in TESOL and have been doing so for over 15 years.
What is the Trinity College London Certificate in TESOL?
The Trinity CertTESOL is an initial qualification in the Teaching of English to Speakers of Other Languages. It is accredited by Trinity College London at Level 5 on the National Qualifications Framework.
Along with the Cambridge English CELTA, it is the most recognised EFL teaching qualification and will open doors to you teaching in the UK and all over the world.
Course Options
Full Time – 4 week course – 9am – 5pm Monday to Friday
Part Time – 12 week course – contact us for further details
Courses are available for:
For group bookings, please contact us at hello@oxfordinternational.com
Course Start Dates 2021
11th January
8th February
8th March
19th April
17th May
14th June
26th July
23rd August
20th September
25th October
22nd November
Price
Trinity CertTESOL online course costs £995
Our Early Bird Discount is currently available, for a limited time only, reducing the price of your course to £895.
To take advantage of this discount please get in touch for more information and terms & conditions.
Trinity CertTESOL Entry Requirements
To successfully apply and participate you must be at least 18 years old and have:
The capability to cope with the academic requirements of the course. This may mean having a university degree, or the academic qualifications that would have enabled you to get accepted on to a degree course.

Please be ready to provide us with a copy of your most significant academic certificate as it is a Trinity College stipulation that proof of qualifications is rigorously checked.

For applicants without the above, awareness of relevant transferable skills that have been acquired through work experience may instead be considered necessary.
The skills to fluently and accurately communicate in spoken and written English. Applicants who do not have English as their mother tongue require an IELTS score of 7.0 (or equivalent) in each of the four skills. Applicants for whom English is their mother tongue must hold a GCSE in English (grade C minimum).
Interest in learning and teaching & appropriate personal qualities for teaching.
Adequate health to deal with the demands of an intensive course of training.
It is not essential to:
have English as your mother tongue
have knowledge of a foreign language
have any prior teaching experience
What to expect from the course
The Trinity CertTESOL consists of several different components:
Input sessions with course tutors: These sessions take place during the morning and examine the theoretical and practical aspects of EFL teaching. You will be introduced to techniques that you can apply in lessons and dedicated sessions on the study of grammar, pronunciation and other aspects of the English language.
Guided Teaching Practice: You will complete six hours of supervised classroom teaching. Classes consist of a minimum of six people and are composed of multi-lingual students.
Observations of Professional Teachers: You will need to observe several lessons in order to further your ability to assess a teacher's performance.
Unknown Language Training: You will spend four hours learning an unknown language during the course to help you identify the problems faced by learners and encourage you to analyse your own reactions to the learning experience and the teaching skills on display.
Learner Profile: You will spend several hours interviewing, teaching and analysing the language capabilities and study style of a student on a one-to-one basis.
Written assignments: You will be asked to complete a series of journals relating to the components above to help you analyse and reflect upon your learning.
Assessment of Language Awareness: There is no external exam at the end of the course. However, trainees take an internal Language Awareness Test in the final week and speak with a Trinity Moderator about various aspects of the Trinity CertTESOL course.
The course will help you:
Become aware of a learner's needs and motivation
Create and maintain learner interest
Prepare lessons plans with achievable aims
Stimulate and maintain active participation in a class
Develop knowledge of phonological, lexical and syntactic features of contemporary English
Evaluate and adapt published material to create useful teaching materials
Gain a broad understanding of the main advantages and disadvantages of various language teaching approaches
Evaluate your own effectiveness as a teacher
Become aware of post-course development and the structure of the teaching profession
Technical Requirements
Laptop with webcam & audio capabilities
Reliable Internet connection
Accreditation
Oxford International Teacher Training is accredited by