On the first day of school, we make sure that all students have a pen and paper. Pen and paper are two of the most important and useful tools that a student can have – that anyone can have. With these tools, vocabulary can be practised, letters can be written, drawings can be sketched, a diary can be kept or a great story could be imagined.
Creative writing workshops
We are very excited to have our creative writing workshops return to our Brighton school. Teacher and author Kirsty ran two sessions covering topics including; fiction, non-fiction and poetry. These workshops focussed in particular on form and genre, helping our students to develop a better understanding of how the same language can be manipulated and played with to create an entirely different type of writing. For example, a poem is a different style of writing to a travel article, even though both may use adjectives, idiom and metaphor to create an image of a location in the reader's mind.
Through a greater understanding of a genre, our students are able to use their vocabulary and grammar to create pieces that are accurate in different styles of writing and language. Nobody should feel as though they don't have enough language to be creative in their writing and this workshop gives students the tools of style, revision and practise, but the core vocabulary and grammar are entirely theirs to create.
A lot of our students joined in to practise their writing to help with their approaching IELTS exams. While they get plenty of practice with writing during lesson times, there is something quite relaxing about being able to open up the creative side of language. The class allows students to see the process of writing as not test but as an expression of themselves giving them the opportunity to get to tell a story in their own words rather than produce a 'model' answer. It's a skill that for some is utterly brand new and unique, something creative and personal that will carry much more weight with the reader and be better remembered by the writer. It also helps prepare them for using their language skills in different ways, continuing to reinforce learnings from class and conversations.
Students who come away with their own carefully crafted, revised and reworded piece of writing can experience the same thrill of crafting, making and creating something that an artist or musician feels. To create a story in an additional language is a great achievement for our students and we know that our pupils gain confidence in their skills and become incredibly proud of the work they produced.
One of our teachers reflected on these sessions saying
"A lot of the students enjoyed the rhyming factor of poetry because it challenged both their vocabulary range and their understanding of pronunciation, in a really fun environment. Plus, they looked the most satisfied when they nailed it.
Some students on our IELTS preparation cause joined the sessions, as they wanted to practice their writing, even though it was creative and not academic but they liked the alphabet exercise we did – where they had to start each sentence with the letter of the alphabet and to make one long continuous story. I encouraged them to take it home and attempt an academic essay in that style too, which they did and it seemed to challenge their vocabulary, language structure and linking skills."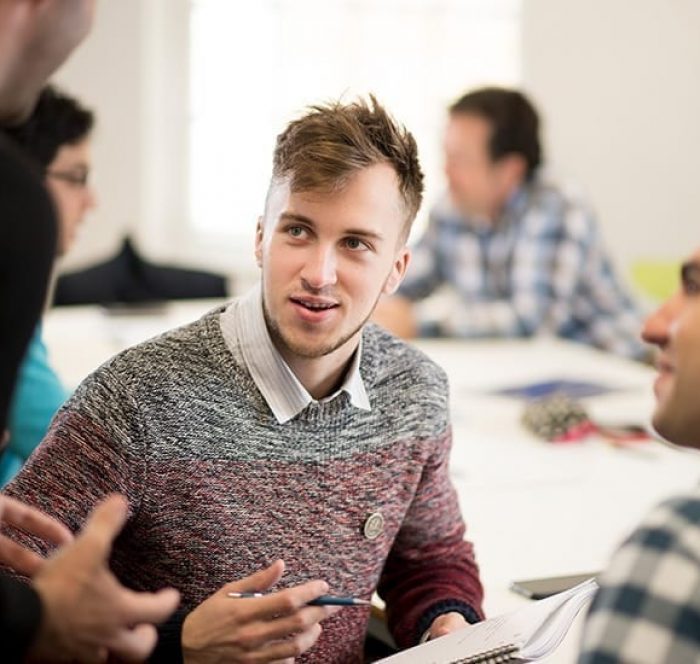 General English
Our most popular course, General English suits every level of learner. It builds general proficiency in English by working on the four main language skills – reading, writing, listening and speaking.