Toronto is one of the top destinations for international students around the world. In 2019, there were 638,960 international students with valid study permit in Canada (Statista.com), over 40% of students chose to study in Toronto. Know why Toronto is so popular for international students? Below are top 7 reasons:
1. Job opportunity
Toronto is Canada's largest city, and country's center of business, technology, finance, entertainment, and art. Whether you are looking for a part-time job while you are in college/ university or a full-time position after graduation, Toronto has plenty of opportunities for you. This city offers a significant job market, but this also means that competition is high. Getting a job is a unique experience for each person. The more competent you are, the easier it will be to gain employment for you.
2. World-renowned education
Colleges and Universities drive economic development. Toronto is Canada's largest center of education, research, and innovation. Toronto is home to 8 publicly funded universities and colleges, as well as several trades and apprenticeship institutions and research centers. With hundreds of public and private schools, this city has a strong primary and secondary education system.
University of Toronto
York University
Ryerson University
OCAD University
George Brown College
Humber College
Seneca College
Centennial College
>>> Find out more about our pathway program and university partners in Toronto here
3. Diversity
Toronto is one among the world's most diverse cities. You don't have to travel around the world to learn about new cultures. 16 countries have over 50,000 people represented in the Toronto region, which will give you plenty of opportunities to meet new people from diverse backgrounds. Studying in Toronto, you will realize that multiculturalism is woven into every aspect of people's lives whether it's foods, arts, festivals, or even businesses.
4. Friendliness
People in "The 6" or Canada, in general, are well known for their friendliness. You will be surprised by the amount of time Canadians say "Thank You" or "Sorry" when you live here. In a recent study about how people from around the world interact with others, the analysis public that on Twitter, Canadians are the friendliest people in the world. The study also showed that compared to users from other countries, Canadian engage in more conversations.
5. Scenery
Canada is well-known for its breathtaking scenery and uninhabited land. In Toronto, there are many tourist destinations for you to explore, including CN Tower, Ripley's Aquariums, Royal Ontario Museum, Toronto Zoo, Toronto islands, beaches, and many parks. You will have plenty of opportunities to explore, from a vibrant city center, with shopping malls, fine dining, music, to historic Distillery District, featuring home to unique shops and restaurants.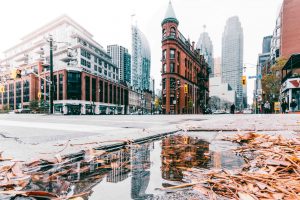 6. Food
In Toronto, you will find various cuisines from all over the world, from flavorful Indian curry, authentic Italian pasta, rich Vietnamese pho, to aromatic Chinese dim sum, and so much more. Living in this vibrant city will give you the comfort of living in your own country where you can find all kinds of food ingredients. Besides that, you must try Canadian foods as well. One of the must-eat dishes is poutine. Created in the 1950s in Quebec, influenced by French cuisine, it has become a firm favorite right across the country.
7. Friendly immigration
Canada makes another top 1 of the list as the most immigration-friendly country in the world, which is rated by the United Nations in 2021. Canada plans to continue its policy of welcoming immigration to the country. In 2022, Canada aims to welcome 411,000 new permanent residents, however, these figures may be revised when the federal government unveils its new levels plans.